The President of the Supreme Court received the residents in the Sabirabad district
16.09.2022, 16:47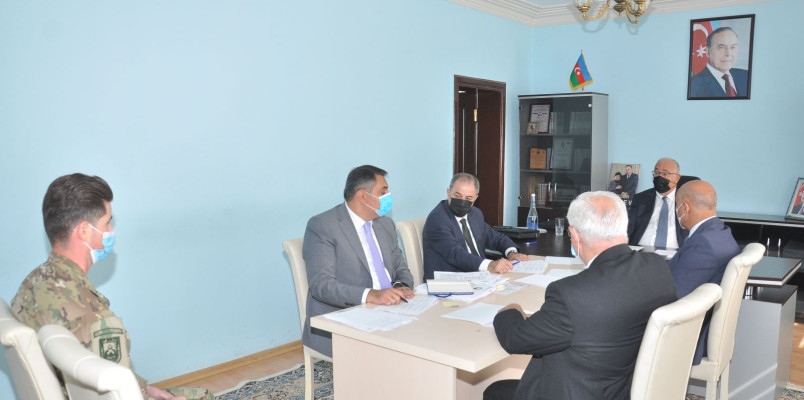 According to the schedule of reception of citizens in the regions, President of the Supreme Court of the Republic of Azerbaijan Ramiz Rzayev received residents from Sabirabad, Saatli, Imishli, Kurdamir and other districts in the Sabirabad district on 16 September.
Ahead of the reception, the monument of the Great leader Heydar Aliyev was visited in the Sabirabad district, flowers were laid in front of it, and deep respect was paid to his memory.
The President of the Supreme Court listened to the grievances of each citizen regarding the activities of the courts and gave relevant instructions to the officials of the Supreme Court who attended the reception to investigate the issues raised and resolve them in a lawful manner.
The citizens expressed their deep gratitude to the country's President for the receptions of the residents of the region and consideration of their grievances.
During the visit, the President of the Supreme Court got acquainted with the administrative building of the Sabirabad District Court, the activities and working conditions of the judges, held a meeting with the participation of the judges of the Shirvan Court of Appeal, Sabirabad, Saatli, Imishli and Kurdamir District Courts.
Issues arising from the implementation of the Decree of the President of the Republic of Azerbaijan "On improving activities in the penitentiary field, humanizing the penal policy and expanding the application of alternative punishment and procedural coercive measures not related to social isolation" of 10 February 2017 and the Decree "On deepening reforms in the judicial and legal system" of 3 April 2019, which is an important road map for judicial activity, were discussed.
Stating that the judicial-legal reforms aimed at improving the effectiveness of justice, ensuring reliable protection of human rights, as well as increasing public trust in the judiciary directly depends on the activities of judges, the President of the Supreme Court emphasized the importance of following the basic principles of justice.